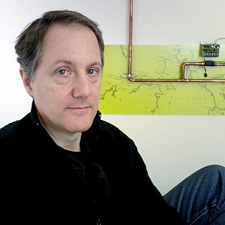 Michael LeBlanc (Hon. BA, Summa Cum Laude University of Guelph 1978; MFA, York University 1980) is an Associate Professor of Interdisciplinary Design at NSCAD University, Halifax, Canada. His research interests encompass web, user interface design, physical computing and product design.
During the 1980's he was a regularly exhibiting artist and his mixed media drawings can be found in private and public collections in Canada, the USA and Europe. Before coming to NSCAD in 1990, he taught drawing and interactive media at the University of Guelph, University of Waterloo and the University of Toronto Department of Art as Applied to Medicine. From 1998 to 2001, he worked full-time as Creative Director for ITC Learning Inc., Director of Media Design for Knowledge House Inc., and Senior Designer for PhotoPoint.com, which at the time was the world's largest free photo-sharing website. He returned to NSCAD full-time in 2001. In 2013 he served as a research consultant for the Information and Communications Technology Council in Ottawa and in 2015 he was appointed Visiting Professor at Foshan University, China. He holds a Basic+ amateur radio license, callsign VE1LEB.
General Eccentric, his art and design consultancy, specializes in interactive media and physical computing.
Follow him on Twitter here, and visit General Eccentric.

Comments or questions are welcome.