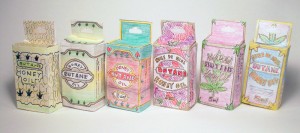 Dec. 2, 2010
Results are in, and we're holding, man… the class came up with a wide range of designs for the Butane Honey Oil project.
The submitted work considered how different visual dialects (gaming industry products vs. pharmaceutical industry products) are employed in visual communication, and how mashups of these dialects can result in visually new and interesting designs.
With the exception of the words "Butane Honey Oil" and "Huile de miel Butane", the students were limited to using the open-source DejaVu font family.
Successful approaches included Kristin Brophy's sensual-ky-jelly-condom-velvet, Charline Giffard's late-night-deep-purple-natural-mellow, Natasha Rider's hot-and-spicy-las-vegas-red, and Conrad McGee-Stocks' industrial-strength-electric-oil-company box.
Look at a PDF of the class work.