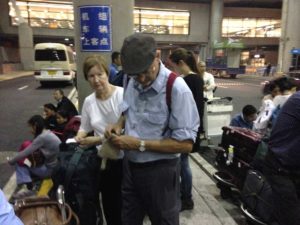 When I arrived at Pudong airport for my trip back to Canada, I had no idea that Beijing airports had been closed for the past two days because of heavy smog. International flights bound for Beijing were diverted to Pudong. There aren't enough jet bridges at Pudong for the planes, which end up parked away from the terminal on the tarmac. This situation caused a bottleneck due to the limited number of buses, pushback vehicles and plane staircases. This is the story of what happens when a 22-hour trip becomes a 42-hour trip.
Some arcane information about China gets revealed, like:
it is illegal to operate a bus after 2am
Chinese immigration staff are not paid time and a half for overtime, and indeed are often paid less than regular pay, which means that fewer workers will agree to work overtime
Sunday November 6, 15:15 –
Frank drops me off at Pudong airport. Unusually short lines at Air Canada check-in. This looks promising!
16:00 – Arrive at gate in main international departure lounge, see incoming Air Canada plane approach gate and then swing around to park on tarmac. I surmise that it is empty, but a half hour later, passengers emerge down stairway and into buses.
16:15 – The area is very quiet. Someone looks at the notice board at the gate: the gate has been changed from D76 to D321, across the terminal. I take a hike.
16:45 – Very crowded ground level terminal, warm and few places to sit. Lots of international and domestic flights have been moved here.
17:15 – A fellow sits down beside me. Mike Tang met me here years ago when he joined our recruitment group. At this moment we are 5 minutes to scheduled boarding, but they announce the boarding of a Tokyo flight. It's plain that we will be delayed.
18:45 – Boarding is announced. Mike is Elite so he gets me into the priority boarding line, but we still wait in line.
19:30 – I find my seat, 54K a window seat. Later an elderly couple take their seats in I and J. The man is beside me. His wife has severe Altzheimer's. It will be a long flight… I don't know how I will get out to visit the washroom. I try not to think about this.
20:30 – The plane is ready to go, but there is no pushback vehicle. We are 17 in list to take off.
21:00 – We are told that the delays are due to weather, and many flights have been diverted. Still no pushback vehicle.
21:30 – It is announced that due to safety regulations, the flight crew cannot complete the flight within the allotted time, so the flight has been cancelled. We need to wait now for the staircase and buses to take us back to the airport.
22:00 – Back in the terminal. We are given small slips of paper that gives the address of the hotel that the airline is taking us to. I befriend two couples from Ohio, one couple is Jan and Patsy, two retired teachers. I'm Canadian, so I apologize for the situation. We make our way to immigration. This is disorienting. Like going through an airport while walking backwards. At the entrance to the immigration hall there's an angry crowd of locals jeering and screaming at the immigration people. Our little entourage finally discovers the way around this problem and we make our way to the immigration hall. The 450 people from our plane seem to be joined by an equal number of mostly Japanese. I find out later that the JAL flight that boarded from our gate before us actually took off, but turned around and landed again due to heavy turbulence. There are only three immigration inspectors (no overtime pay for them).
23:30 – Finally make it through immigration. I'm separated from my American friends who get into a faster line. I join a couple of others and we find the baggage claim area.
Monday November 7, 00:00 –
We find the exit gate for the hotel buses. One is waiting but the luggage storage area is full. I'm reunited with my American friends and we wait for the next bus.
01:30 – We discover that there will be no more hotel buses, and that we must take a taxi. Buses are not allowed to run after 2am, I learn the next day. We consider simply going back to the terminal and waiting there, but we see that there are now lots of taxis, so we wait in line. My friends don't have any RMB, but I have 400, so we decide to go in two cabs, and one couple buys 200 RMB from me for US$35.
02:00 – I get in the cab with Jan and Patsy, and it takes all 200RMB and about 30 minutes to get there.
02:30 – Check in at the Koyal Hotel. FaceTime Dorothea. See if I can get a few hours of sleep.
06:00 – Shower and shave. I receive two emails from Air Canada giving me my itinerary. The second is an adjustment of my connection to Halifax. If all goes well, I should be back home early Monday evening… we'll see.
06:30 – Go to breakfast. There's not much room, so I join a fellow who is the Quebec MLA for the Magdalen Islands who was in China to look for investment.
08:30 – Check out of the hotel.
09:20 – Depart hotel on bus chartered by airline. This feels more and more like a holiday charter.
10:00 – Arrive Pudong terminal 2. After running between 3 check in areas, I made my way to G check in, and waited about an hour in line before getting served. Mike Tang found me and told me to find him in the business class lounge, which I did– and had some food, a glass of wine and at his suggestion (he always does this before a long flight) take a quick shower, which are provided for elite clients. It was very warm and humid in the terminal, and the shower was very refreshing.
13:15 – On the plane in my old seat, awaiting the arrival of my elderly seat mates. I'm greeted like an old friend by the cabin crew. Everybody has been friendly and good natured, despite the misfortunes.
13:45 – Just as they are announcing that they have secured the cabin doors, my two elderly friends approach slowly down the aisle, and take their places. I'm resigned to my imprisonment. However, about 10 minutes later, one of the attendants asks if I want to move to a more open area. Two seats in the middle column are available in row 19. I say yes, that this would give the seniors more space and make it easier to get to the aisle for a washroom break. They can't get out of their seats so I gingerly crawl over them and up to just behind the business class cabin — the seats that they charge you $150 extra so that you can stretch your legs. While waiting for pushback I have a nice conversation with the woman beside me, who is a Chinese-Canadian who is an immigration consultant. An unexpected but agreeable turn of events.
Monday 16:40 Toronto time –
Arrive on time, processed through customs, and board flight to Halifax. Hanno and Rika also on this flight, returning from Munich.
20:20 Halifax time –
Home again!