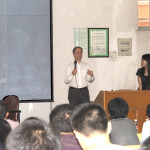 While in Foshan, I was asked to give a keynote presentation for a short symposium on "Critical Design." Anthony Dunne and Fiona Raby say that "Critical Design uses speculative design proposals to challenge narrow assumptions, preconceptions and givens about the role products play in everyday life… Its opposite is affirmative design: design that reinforces the status quo."I started with a historical perspective by leading my Chinese listeners into an overview of the Paris Uprising in 1968. I linked the start of the Cultural Revolution with the student-driven ferment in France, Poland and the United States at the same time. I introduced the Situationist International, Guy Debord and his book "The Society of the Spectacle":
…In societies dominated by modern conditions of production, life is presented as an immense accumulation of spectacles. Everything that was directly lived has receded into a representation…
…The spectacle manifests itself as an enormous positivity, out of reach and beyond dispute. All it says is: "Everything that appears is good; whatever is good will appear."…
…The spectacle is not a collection of images; it is a social relation between people that is mediated by images…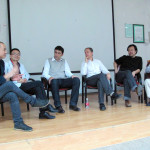 I followed this with an introduction of Marshall McLuhan, who was active in Canada at this time, the launch of Adbusters in 1989, and Naomi Klein's "No Logo" as examples of the beginnings of a critical discourse around the role of (mainly graphic) design in late 20th-century society. The rest of the talk was showing some examples from Dunne and Raby, Viktor Hertz, The Hypothetical Development Organization, Randy Sarafan, and, of course, my own efforts, including the Shy Dildo, Clock with Tics and Media Circus.
My point was this: it's good to have clients and it's good to have problems to solve, but designers should question societal norms from time to time. Sometimes it is necessary for a designer to take an opposing position, if for nothing else but to clear out the cobwebs of sycophantic thinking. Often, the most innovative design comes out of a process that is critical of current practices and presumptions.
After a short question-and-answer session with the audience, which included members of the Foshan Design Association in addition to students in the Art and Design school (and at least one very articulate Business School student), I was joined on a panel by several members of the design community, including Renato Franchini from Modena, Italy.
The Foshan University report is here.
The Google Translate version is below:
The afternoon of November 22, the ceramic (jewelry) College of Art and Design, and Foshan Design Enterprises Association jointly organized the exchange of design innovation. The General Assembly has invited Canada Nova Art and Design University (NSCAD University) the Design Branch President, Professor Michael LeBlanc entitled "Critical Design" keynote speech. Professor Michael invitation by the College of Science and Technology of Foshan ceramic (jewelry) College of Art and Design, and come to my school for industrial design students held a design workshop international educational exchange activities.
In exchange meeting, the Mr. Michael Professor and Italian designer Renato Franchini, ceramics (jewelry) Associate Dean of the School of Art and Design Professor Fan Jinsong, Foshan Design Enterprises Association, Mr. Liu Guangxiao the Foshan design corporate vice president of the Association Mr. Gao Zhanhui, Foshan design corporate vice president of the Association, Mr. Deng Ruihua together with Foshan local designers will my school teachers and students interact and communicate well.