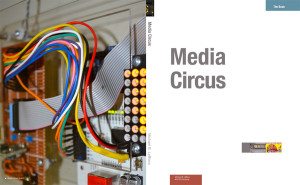 Media Circus is an electronic, internet-enabled scrolling marquee that displays amusing news headlines. Media Circus uses @generalxcentric's daily tweets, which are cutups of contemporary news headlines from the CBC and the Toronto Globe and Mail.
The 176-page full color softcover book describes the theory and design of the marquee, and illustrates 365 of the cutups from 2012.
Media Circus is the subject of an earlier post on how to use Tellymate to debug, and an even earlier 2011 post introducing the concept.
Download the Arduino code and the schematic.